For underground, Underdark or subterranean adventures or campaigns in RPGs like DnD 5e, consider the following elements.
Use ordinary dungeon crawls to lead into the underworld.
Consider the light problem.
Underground ecologies and setting: Lava, glowing mushrooms, crystals
Natural underground obstacles and pitfalls
Subterranean monsters
Subterranean adventures or campaigns in DnD 5e can be as expansive as the Underdark or as quick as a monster's cave lair.  These underground settings offer unique challenges, creatures and pitfalls to explore.  Building out an underground setting can capture the sense of mystery, awe and deep time that the above world can miss.
Before we dive in, team Genre Bomb has an available pirate adventure for those interested.  Click below for more info!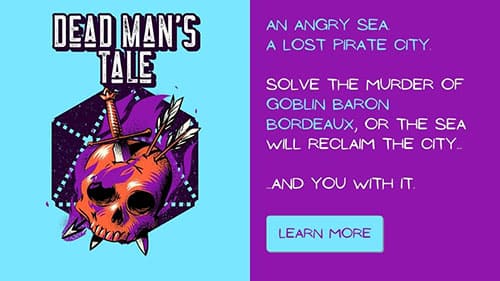 Use ordinary dungeon crawls to lead into the underworld.
Before we dive into our expansive underworld, let's think about the setup that brings our adventurers to this setting.
A staple in RPG development is the dungeon crawl.  The lair, temple, haunted castle or lost city offers the party gold, treasure and adventure.  Naturally, players can be tempted into these dungeons through treasure or plot.  However, a trip into the depths of the underworld is just one skip away from many of these typical settings.
Consider a setup for a lost temple or forgotten castle basement that leads into a whole new world underground.  This surprise can cast a sense of mystery over the players—especially if we flex the incredible nature of the discovery.  If the entrance to the fascinating world looks like a typical, dank cave, it might lose some of the "let's check it out" factor. Therefore, consider sprinkling in pictographs, glyphs or other clues about the mysteries ahead.  Then, bring them into more incredible underground settings as the adventure continues.
Consider the light problem.
Light, or the lack of light, can be an obstacle all by itself.  With monsters and pitfalls lurking in the darkness, players will need to figure out ways to illuminate their surroundings.  Sure, darkvision can help.  However, some places are so dark they suck up all available light.  This means there's a level of darkness that darkvision can't see through.
If this upkeep of light gets tiring, we can always utilize natural (glowing mushrooms, lava) or magical sources of underground lighting for the characters to find.
Wizards and artificers can be a good source of light for the party.  Consider the fact that torches only last so long.  Therefore, magic items and spells can really be useful here.  Plus, it gives players a good reason to choose adventuring spells over battle magic.
Underground ecologies and setting:  Lava, glowing mushrooms, crystals
Fortunately, we have tons of fiction samples to pull from in building out our underworld.
Naturally, DnD's Underdark is great place to start.  R.A. Salvatore's The Legend of Drizzt series does a fantastic job painting a subterranean world.  Glowing mushrooms, Drow kingdoms, various lifeforms and cultures are all explored in the first trilogy of these novels.
However, let's chart out some common underground settings.
Crystal Cavern
As the party explores cavernous tunnels, they begin to hear echoes in the distance.  Suddenly, the cramped cave space opens into a glorious, expansive open space.  This cavern is full of glowing crystalline structures, creating a dull blue glow that illuminates the surrounding trails.
This kind of underworld environment is perfect for dwarf, dark elf or gnome kingdoms.
With the nobler races of gnome and dwarf, this could be a fantastic spot for a castle city.  The crystals could be harvested for magical purposes or left alone for the ambient light.  Perhaps a gnome kingdom has built a village where the light is greatest—away from stalking predators and monsters.  Maybe gnomes use them for magic and dwarves use them for crafting purposes.
A kingdom of dark elves would call for a much more sinister environment.  Therefore, consider using red or purple light where it is ambient.  Perhaps the crystals store evil magics, turning them red.
Beneath the Volcano
Rivers of lava, glowing stone and perhaps a few misplaced dinosaurs can really ignite a subterranean adventure.
The Lost World setup is a favorite of mine.  Place strange plants and dinosaurs inside a world of lava.  Maybe we could include the crystal idea in this world to feed the plants some sort of magic light, which stabilizes the prehistoric ecosystem.  Now, an ordinary cave expedition can tumble into a survival scenario, complete with lava dinosaurs.
On the other hand, an elemental land of dragon fire could be a fun place to explore with wizards.  Fire elementals, sorcerers, dragons and diabolical characters could have a real party down here.
For pitfalls and natural hazards, lava takes the cake.  If a player falls into a pit of lava, it deals a staggering amount of burn damage.  Either they're a gonner, or they have some sort of magical fire protection.  Consider lava streams, rivers and waterfalls to vary the threat within the journey.  A lake of fire could be crazy but consider how the radiant heat may affect the characters.
The Land of Mushrooms
Need a different kind of forest?  Try fungi.  Towering mushroom forests, mold growths and bioluminescent pods can paint an underground world with fascinating forms of life.
Firstly, let's take a look at how we can expand a mushroom forest.  We'll need varying species of fungi to create a unique setting.  Therefore, I recommend giant mushroom trees, mold grasses and various bioluminescent mushrooms of medium height and skinnier heads.  What sort of creature encounters would happen with the vast overhang of the mushroom cap canopy?
Plus, fungi can be trippy or poisonous.  The forest could easily hold pitfalls that drug, disease, infest or poison the characters in all kinds of funky ways.  Of course, this doesn't have to a be a bad thing.  Maybe a party member accidentally gets visions from a cloud of mushroom spores.
Then, consider what sort of civilizations would dwell within the fungi forest?  Mushroom dudes?  Mole People?  Gnomes?  Encounters with a local civilization could open new quests, confrontations or teaching moments.
Related Posts:
Natural underground obstacles and pitfalls
I've gone over a few hazards already, but let's crack this egg open and think about what could happen:
Holes: Whether to a trap room or an endless abyss, falling through holes is a real threat in the dark.
Hidden Monsters: The absolute darkness of the underworld can hide creatures who are far more adapted for zero light.  Expect ambushes.
Mazes: Natural cave systems can act as a maze where characters can get lost.  Add a monster to the game to spice up the puzzle.
Falling Objects: Stalactites and rocks can always be set up above players.  Cave ceilings may be unstable or rigged to fall.
Climbing: Extensive rock climbing may be necessary in cavernous areas, complete with long falls.
Poisonous Fungi: The toxin could be trippy or deadly—delivered through spore clouds or consumption.
Lava: As I stated before, lava can flow like water and is super deadly.
Subterranean monsters
Make sure the monsters fit the style of the setting.
Undead: Zombies, mummies and various undead can exist in a setting more closely related to the mythic underworld of the dead.
Diabolic: Another underworld trope, devilish monsters can embody the underworld with a helping of fire and brimstone.
Grotesque: This word comes from the sense of ugly that can only come from darkness.  Monstrosities of multiple limbs an asymmetrical biology fit the dark.  This type of threat works well as a reveal, with tension building in a horror campaign.
Fungai: Fungal creatures range from mushroom humanoids to hive-mind monstrosities.
Underground Beasts: Giant forms of burrowing creatures (snakes, bugs, moles and other mammals) can add a natural enemy in the early game.
Elemental: Fire, Earth and Water elementals can come in many forms. Everything from mud golems to lava elementals to crystalline threats fit the vibe of a high-magic adventure.
Dark Fae: Naturally, dark elves and Drow run this category, but other types of dark Fae (gnomes, dwarves, fairies) should be considered as well.
Dinosaurs: In case of a Journey to the Center of the Earth adventure, include dinosaurs in your molten lava world as natural obstacles.